Law Office of Gary S. Miller
For all Suffolk County Traffic tickets
Suffolk County traffic tickets professionally defended.
Thousands of traffic cases handled since 1987.
I am in court everyday handling both traffic and criminal cases in Suffolk County.
Over the last 20 years my representation has resulted in thousands
of traffic tickets being reduced or dismissed.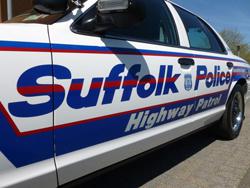 Please take the time to look through our website.
There is information which will help you understand the ins and outs of Traffic Tickets, applicable Traffic Laws, and the Suffolk County Courts. Please contact us at (631) 665-2200 or Email Us or Make an Appointment to schedule a FREE Consultation and we'll be in touch to arrange a convienent time.
Suffolk County Tickets
As a Suffolk County traffic lawyer for over 20 years, I have handled thousands of traffic tickets throughout Suffolk County. The majority of tickets that I receive calls on are Suffolk County speeding tickets, however I handle all Suffolk County traffic tickets including passing a red light, failing to signal lane change, driving with a suspended license, unsafe lane change, reckless driving, passing a school bus, HOV violations,, Suffolk speeding tickets, Suffolk County trucking tickets, Suffolk County DWI, and no insurance tickets.
If you have received a Suffolk County traffic ticket, it's best to retain a Suffolk County Traffic lawyer. As a Suffolk Traffic Lawyer, I am familiar with the nuances of each of the Suffolk Courts and will always try to have the ticket dismissed. When a dismissal is not obtainable, the next best option is, when possible, to try to negotiate a reduction to a lesser charge.
Most Suffolk County speeding tickets and Suffolk County traffic tickets are returnable to the Suffolk Traffic Violations Bureau, also known as the Suffolk TVB in Hauppauge. There are also a number of Village, Justice, and Town courts throughout Suffolk County that tickets may be returnable to as well. For example, tickets received around exit 58 on the expressway, will end up at the Islandia Village Court.
Tickets received on the east end will end up at the various east end courts such as the Southampton Town Court, Riverhead Town Court, and East Hampton Town Court to name a few. Misdemeanor tickets such as driving with a suspended license, revoked registration and driving while intoxicated are usually returnable to the Suffolk County First District Court in Central Islip. Felony charges will end up at either the Central Islip Courthouse or the County Court in Riverhead.
Suffolk Traffic Violations Bureau Update
It looks like Suffolk County is going to do away with the Suffolk TVB and replace it with a Suffolk County Traffic and Parking Violations agency. A bill to establish a Traffic and Parking Violations Agency has already passed the NYS Senate, and is now being presented for vote to the NYS Assembly. If it passes, it will mean big changes for the way most traffic tickets are prosecuted in Suffolk County. At present, almost all tickets returnable to the Suffolk TVB must be marked for trial. There is no negotiating, nor are attorneys entitled to demand documents from the court or police like in other courts.
Basically, it's a win or lose situation, with borderline speeds being reduced at trial. If the county replaces the TVB with a traffic and parking violations agency, we will be able to negotiate reductions, and request documents from the court as we do in the other courts throughout Suffolk County. This is important because at present I am able to get a large portion of the hand written Suffolk County speeding tickets and traffic tickets dismissed for failure of the court/ police to provide these documents in a timely manner.
---
If your case involves a Suffolk Traffic ticket, the Law Office of Gary S. Miller can assist you. I handle cases in all the Suffolk County Courts including the Suffolk Traffic Violations Bureau, the Suffolk County First District Court, Southampton Town Court, Islandia Village Court, Riverhead Town Court, East Hampton Town Court, Lake Grove Village Court, Lindenhurst Village Court, Head of the Harbor Court.
And the soon to be Suffolk County Traffic and Parking Violations Agency.
For information regarding suspensions on your New York driver's license you may contact the New York State Department of Motor Vehicles (NYSDMV) driver improvement bureau at 518-474-0774.
Call today for Help! (631) 665-2200
Attorney Advertisement